Bullying is a difficult issue for schools everywhere. Research from the most recent Australian Bureau of Statistics 'Census at Schools' survey shows that bullying is now the #1 issue for Australian school kids, and with the average weekly time schoolchildren spend on a computer jumping from 3 hours in 2006 to 13 hours in 2013, there has been a correlating increase in kids struggling and falling victim to cyber bullying.
Recently we had the great pleasure of visiting Maitland Area School, South Australia to perform our wellbeing and anti-bullying programs 'The H Team' and 'Verbal Combat'. Rather than lecture the students about the issues of bullying, cyber bullying and negative behaviour, Brainstorm Productions used a combination of live educational theatre and follow-up classroom activities to help Maitland Area School tackle the problem.
The students were first provided with an up close experience of what it is like to be bullied, sharing in the thoughts and feelings of victims and bullies through our anti-bullying theatre shows. The school's teachers were then provided with a comprehensive range of curriculm-based lessons and interactive whiteboard activities to continue a meaningful dialogue with their students back in the classroom.
Here is what Maitland Area School had to say about their experience:
Brainstorm Productions performed two shows at school on May 2. The first show, 'Verbal Combat', aimed to address some of the issues around Cyber Bullying, using a contemporary story performed by two very talented young actors. The show certainly had our Year 8-12 students enthralled with a poignant soundtrack, lightning fast costume changes and realistic character portrayal. Following the show, the actors discussed some of the issues, responses and characters involved.
The second show, 'The H Team', was aimed at the Primary Classes and focused on giving students the knowledge, confidence and resilience to help combat negative feelings and behaviours. Once again the actors swapped parts constantly, involved students in songs and actions and bought home the message that critical thinking is an important skill that can help us 'outsmart the media, the junk food giants, the advertising gurus and the bullies to create a healthy harmonious school community. The primary students had lots of questions to ask at the conclusion.
Congratulations to all students for their terrific audience skills and to Brainstorm Production for these brilliant shows.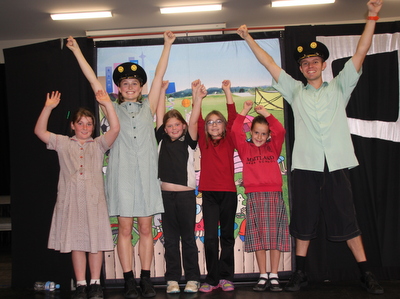 If you would like to know about our anti-bullying programs, please give us a call on 1800 676 224 or click here to email our customer service team.