Brainstorm Productions 2016 tour launched yesterday, Wednesday 27th January, so we thought we'd give you a sneak peek at the hard work that goes into preparing for a year-long tour of ten different school theatre productions. 
The journey begins in early January and the first day of rehearsals is always positively electric. The team is brought together in a 100-year-old country hall near Byron Bay in NSW. The large space is used to introduce the team and for general horsing around to relieve any nerves. There's dancing, singing, miming and lots of drama (of the acting kind of course!).
The magnitude of the behind-the-scenes work is evident in the sheer number of collaborators and people involved, including a team of actors, the writer, director, stage manager, a choreographer, costume designer, set designer, dramaturge and the musical director, to name just a few.  
With day one out of the way, the director then takes over; with scenes rehearsed over and over again to get the messages, emotion and nuances just right. This year's collective of actors consist of 15 professionals who are trained in Brainstorm Productions unique methodology. The actors learn carefully scripted dialogue that provides strong emotional life lessons to students, but in a safe and entertaining way – including how to tackle bullying, cyber bulling, violence, exam stress, binge drinking, dealing with grief and how to make positive life choices.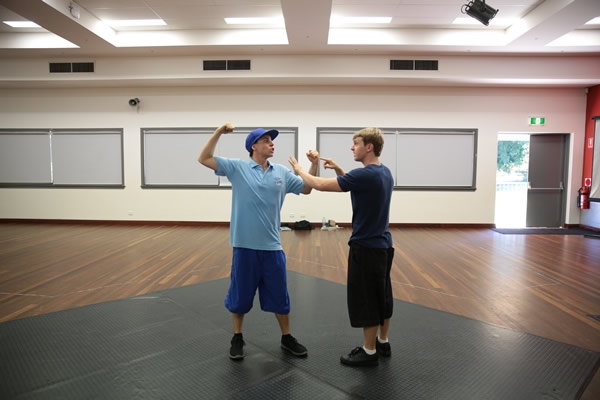 The writer works closely with the director and actors to make dialogue changes, taking care that the scripts reference the most up-to-date technology trends, the issues affecting young people and what's hot from the internet, social media, music, dress, gaming and movies. 
As a certified cyber safety program provider for The Office of the Children's eSafety Commissioner and as the official School Partner for R U OK? Day, the actors are trained on how these organisations can help students in need. 
The performers are then placed in the hands of choreographer and movement coach, Matthew Wells who travels from the UK to work with the actors each year. With a degree from the University of Western Sydney and training at Jacque Lecoq International School for Theatre Arts in Paris, Matthew's vast experience is used to great effect! By the end everyone's muscles are burning, with Matthew putting the actors through their paces.
For the actors working on Sticks & Stones it doesn't end there with further training required in acrobatics, riding a unicycle, juggling and Aikido, a Japanese form of martial arts that focuses on peaceful resolutions to conflict. Thanks to the guys and girls at Circus Arts and JuggleHut for all your help!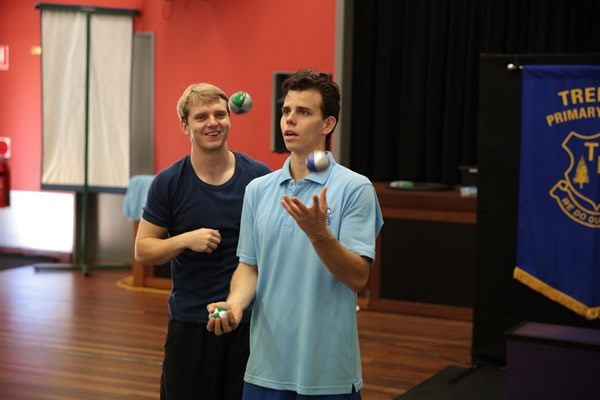 To help bring the productions to life, Musical Director and Composer Sean Peter has remastered and updated all the music for 2016. Sean's experience reads like an honour roll of Australia's leading arts companies including the ABC, The Sydney Theatre company, Company B, Sydney Symphony Orchestra, Sydney Opera House, Nickelodeon, Disney Channel and music theatre productions Hairspray, Fame and King Kong.  
Dozens of set pieces are created and a production manager works with the actors to ensure each scene is set-up correctly. In addition to the set designs, new dedicated costumes are created by designer Loretta Egan. Loretta has worked on The Gods of Wheat St, Paper Giants, Carlotta and Gladiators as well as sewing up a storm and fitting all the Brainstorm Productions actors.
Next, is the photo call. This year we hired professional photographer Gillian Perry from Los Angeles. Gillian flew to Australia and photographed the actors as well as filming a bunch of new videos, which we'll be sharing throughout the year on Facebook and Twitter. So stay tuned…
Finally, but most importantly, the team are trained in all aspects of Workplace Health and Safety, acceptable use of social media, various employment policies, daily admin tasks and working with children safely. They are carefully trained in how to respond to questions from students and how to refer them on to other professionals within the school and wider community. 
But it isn't all work and no play. Between practicing scenes, the actors used their downtime to hang out at the beach, local waterfalls, lake swimming and relaxing. They visit theme parks on the Gold Coast, compete at local trivia nights, play board games, go tenpin bowling and watch movies. 
By the end of the month, the actors and crew exchange some much deserved high-fives and back-slaps after successfully making it through four gruelling weeks. The actors then prepare to hit the road for an extensive yearlong tour of capital cities and regional Australia. By the end of the year, Brainstorm Productions shows will have been seen and enjoyed by more than 350,000 school students across Australia.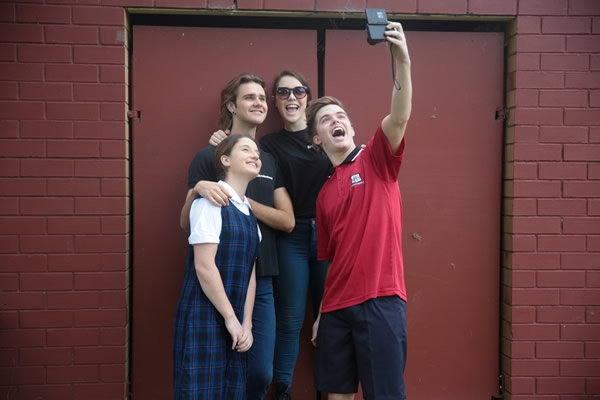 If you would like to know more about this year's tour, follow our adventures and inside stories on Facebook.