We can all feel down, stressed or lonely at different times in our lives. Depression, anxiety and other mental health conditions can affect anyone. But for many of us, putting our hand up and asking for help can be incredibly difficult. It is therefore important for the whole community to know the signs that someone is struggling and know how to offer support.
On Thursday 12th of September, individuals, schools, workplaces and communities across Australia got behind R U OK?Day. Whether it was a morning tea, a sausage sizzle, a school assembly or a fundraiser, R U OK?Day sparked discussions about mental health and the importance of having regular, meaningful conversations with the people around us.
This year Brainstorm Productions supported R U OK?Day by encouraging students to look out for the signs that a friend or schoolmate is struggling, and providing information about how to access help. Our actors performed shows for primary and high school students addressing a range of wellbeing issues, including mental health, bullying, grief, loss, body image, resilience and help-seeking.
We're so impressed by how many schools are making wellbeing and peer support a priority for their students. And we're proud to be a part of it.
Windsor High School celebrated R U OK?Day as part of their Wellbeing Week. They reinforced the message with a performance of our one-man show 'Cheap Thrills' and other events, including a staff flash mob!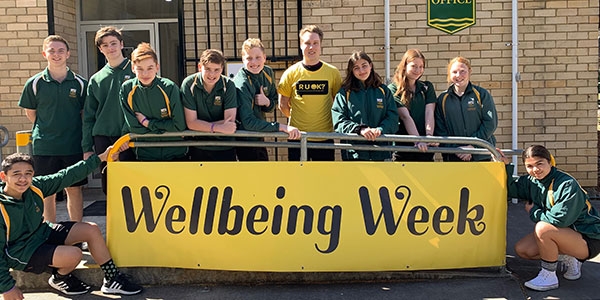 Kirrawee High School got involved with a special R U OK?Day assembly and a performance of 'The Hurting Game' earlier in the week. 'The Hurting Game' is all about positive relationships, seeking help and dealing with the challenges of school.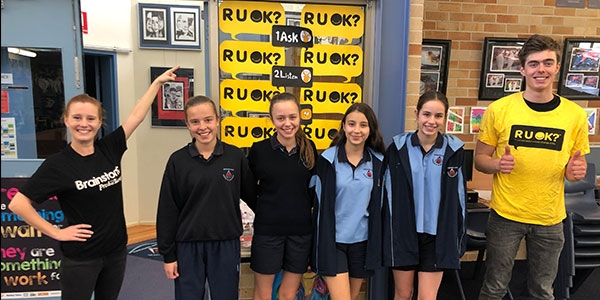 Kentlyn Primary School was right on board with the R U OK? message, with students absolutely loving Rachel and Jasper's performance of 'The Protectors'.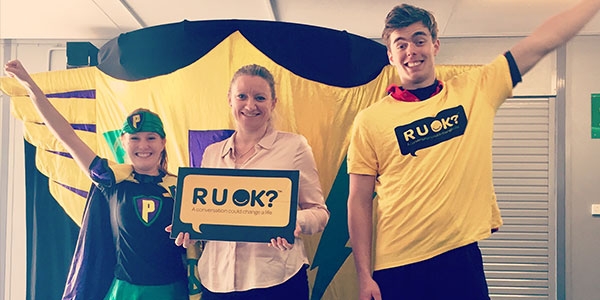 Guy and Harry shared important messages about respectful relationships and emotional wellbeing through performances of 'Sticks & Stones K-6' and 'Sticks & Stones 7-10' – pictured here with students from Terrey Hills Primary School and Picnic Point High School.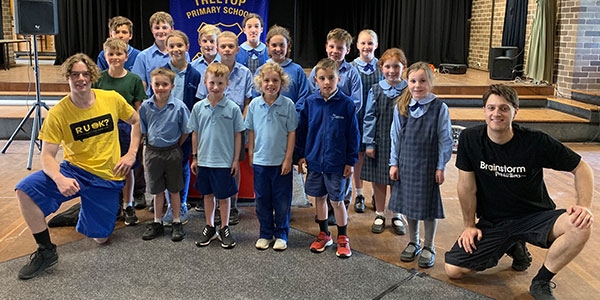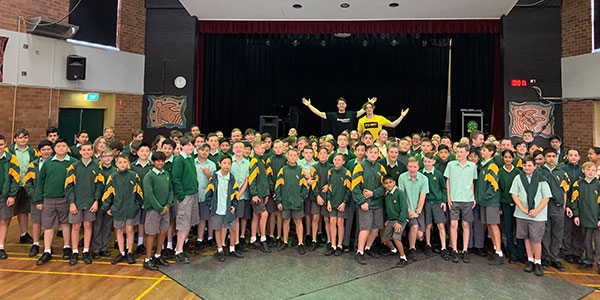 On R U OK?Day our actors put the R U OK? message front and centre at five different schools. Blake is pictured here with students from St Patrick's College, Sutherland.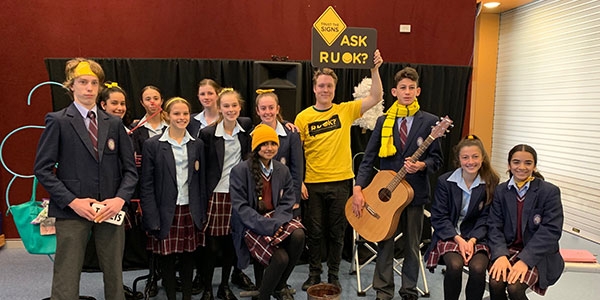 Pia and Blake had a lovely R U OK?Day at Somerville Rise Primary School, performing their show about loss, change and resilience.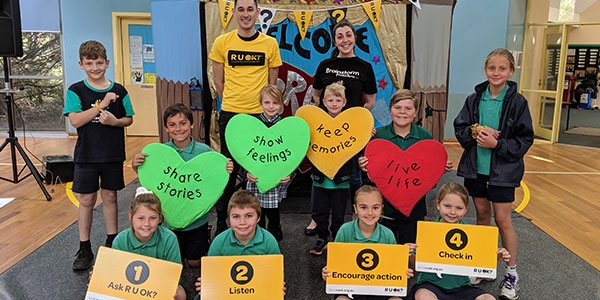 Meanwhile, we joined the official R U OK?Day event at Barangaroo Reserve in Sydney.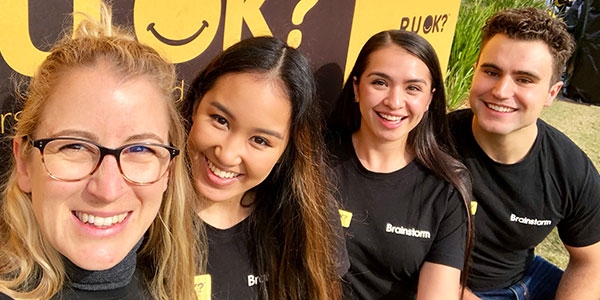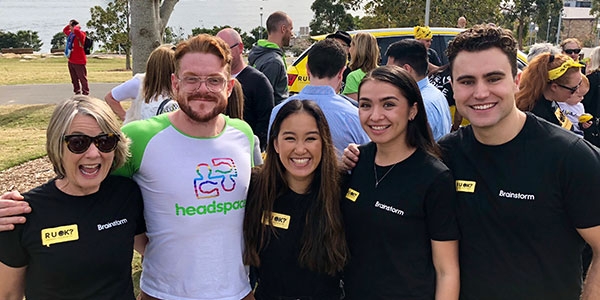 We also caught up with R U OK? CEO Katherine Newton and the rest of the R U OK? team, who have worked tirelessly to make this important message accessible to people across the country. They travelled 17,000km over nine weeks for their 'Trust the Signs' educational tour, visiting every state and territory in Australia, including cities, regional towns and remote communities. Their aim was to engage communites in conversations about mental health, helping them to know when and how to start a conversation with someone they're worried about.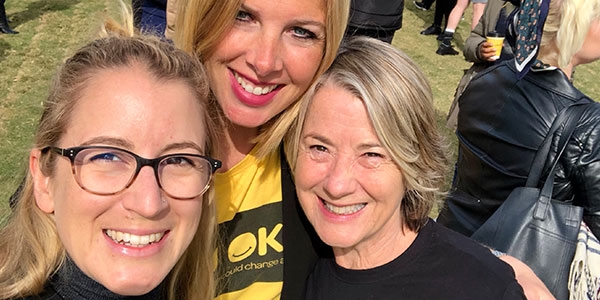 With uplifting performances from Aya Larkin, 'With One Voice Redfern' and Sydney Choirs, the Sydney event was a wonderful way to wrap up the tour.
We acknowledge that R U OK?Day can bring up strong emotions. If you or someone you know is in need of support, help is always available. Lifeline (13 11 14) offers counselling and crisis support at any time of day or night. Kids Helpline offers phone and online counselling for children and young people aged 5 to 25 (1800 55 1800) – any time, for any reason.
Find more information about professional support services at ruok.org.au/findhelp.
To learn more about R U OK?Day and the 'Trust the Signs' campaign go to ruok.org.au. You can also learn more on our blog.
For info on how to create an R U OK? culture in your school, go to ruok.org.au/education and take a look at Brainstorm's student wellbeing programs for primary and high school students.
And last but not least, check out the this new R U OK? video produced with the support of Brainstorm Productions. Stay tuned for more info about the video and how to utilise it as a student wellbeing resource in the classroom!