R U OK?Day is Thursday 9 September 2021. Here's how you can prepare to start a life changing conversation, any day of any month of any year.
R U OK?Day may not be until September but it's vital to remember that R U OK? is a question that might be needed any day of the year.
We know that taking the time to refresh knowledge and skills is well worth the effort. Research by The University of Melbourne has found that hearing R U OK? messages is associated with being two to three times more likely to use helping actions and six times more likely to reach out to someone in personal difficulty.
So, let's start planning ahead for September's national day of action and refresh some of the Key R U OK? messages:
On R U OK?Day in 2019, we were encouraged to 'Trust the Signs'. Recognising when someone might need to be asked R U OK? is the first step in starting a potentially life-changing conversation.
In 2020, we were reminded that asking R U OK? is not a single question but the start of a conversation. We need to be prepared for the answer to the question R U OK? to be 'no'.
Here are some tips from Brainstorm actor Carlo:
Research conducted that year by Colmar Brunton, commissioned by R U OK?,
showed that nearly half (49%) of those surveyed felt they would be more confident to start a conversation if they knew the signs.
For school aged students, the signs might be obvious, like irritability or crying more than usual. Or, the signs might be more subtle, like not eating at lunch or recess, being less talkative, or being less interested in hanging out with friends.
Once you've noticed the signs, trust your gut, use your voice and speak up, as it's time to enact the four steps of R U OK?
There are many ways to ask R U OK? but, whichever words you choose, make it comfortable and real. Let the person know that you've noticed some changes in them and ask an open question that shows a genuine willingness to listen.
If your question is met with a willingness to talk, it's time to listen. You can ask follow-up questions and say things to show encouragement and care, but it's also important to not interrupt or rush. Silence can be an important part of an R U OK? conversation.
Enquire how you can help, or ask what action or support has helped in the past. Reassure them that there are people out there who can help. Encourage them to access support from family, close friends or qualified health professionals.
Checking in later that day, or a few days later can help them stay hopeful and remind them that you're here to listen. Checking in is a caring way to keep the conversation going.
For a refresher on asking R U OK?, try this interactive roleplay video conversation or take this fun and confidential quiz.
PLANNING FOR R U OK? DAY 2021
This year's R U OK?Day will take place on Thursday 9 September. The theme and focus for the day will be announced in July. In the meantime there are steps you can take to plan for R U OK?Day in your school, workplace or community.
PLAN THE DAY WHILE THINKING ABOUT EVERYDAY
Start conversations with colleagues and key people about what R U OK?Day 2021 might look like in your school, so you will be ready to register your event. Discuss how you can nurture an R U OK? culture in your school, and identify strategies for improving support systems for students and staff.
Check out helpful resources for different age levels via the R U OK? Classroom Toolkits. Hopefully, contingency planning for COVID restrictions will not be needed this year but it would still be worth considering the creative suggestions from R U OK? for socially distanced activities.
DEVELOP A LOCAL LIST OF SUPPORT
A key pillar of R U OK? conversations is encouraging action, including the option of seeking professional support. Some resources, like Lifeline (13 11 14), Kids Helpline (1800 55 1800) and headspace (1800 650 890) are Australia-wide. Other national services are listed on the R U OK? website, along with steps to finding help online, in person or by phone.
Having details of more local services – both within the school and the wider community – such as counsellors, psychologists, mental health teams and affiliated support services, is a great resource to provide to students, parents and others. Top tip? Try setting reminders to encourage you to check and update these lists from time to time.
BOOK A BRAINSTORM PRODUCTION
Brainstorm Productions is proud to be an R U OK? School Partner. We contribute to building an R U OK? culture within a school through presenting live student wellbeing programs.
Theatre can empower students with meaningful strategies towards resilience, help-seeking and positive mental health. We help students understand what signs to look for in themselves and in their friends.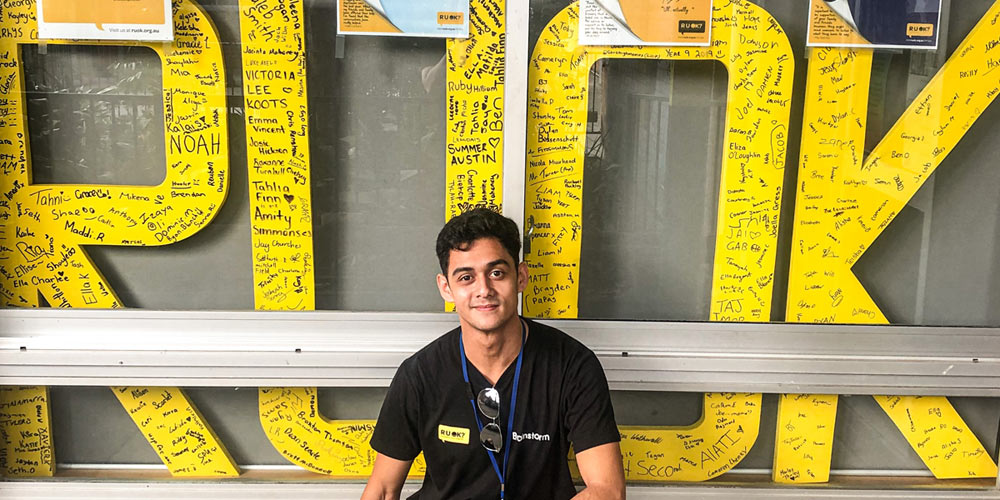 Live sessions are followed by a Q&A and curriculum-aligned teaching resources, allowing for integration with classroom discussion and wider R U OK? events and messages.
In 2021, we are offering three different programs for secondary students, developed in consultation with education and mental health experts, with all content in line with R U OK? messages.
Cyberia
Cyberia is a mental health and cyber safety program that helps students develop resilience, and encourages help-seeking and positive online relationships.
The Flipside
This engaging cyber safety and bullying program explores online ethics and respectful online behaviour, and identifies ways to support peers who are impacted by cyber bullying and online abuse.
The Hurting Game
The Hurting Game is a wellbeing and anti bullying program that follows the journey of two students through different stages of life. The performance encourages conversations about what makes our friendships healthy and authentic. The story highlights the importance of listening and help-seeking for creating a safe and supportive school climate.  
 A live theatre in education experience from Brainstorm Production will positively contribute to your school's R U OK? culture, any day of the year. Our young, professional and talented actors come to your school to perform a 50-minute production, followed by a live Q&A and a range of curriculum-aligned classroom resources. Check out our tour schedule now to see when we will be performing near you.
Reach out to us at any time for questions about our student wellbeing programs and for help with planning your 2021 R U OK?Day.