On Tuesday the 11th of February we celebrated Safer Internet Day. Safer Internet Day is a chance to start conversations about online safety in our schools and communities and help create a better internet for everyone. Safer Internet Day is a worldwide annual event, held in 150 countries and managed by the Office of the eSafety Commissioner in Australia.
Start the chat about online safety
The theme of this year's Safer Internet Day was 'Start the chat about online safety in your community'.
Children may feel scared, confused or embarrassed after a negative online experience. They may be reluctant to talk to an adult for fear they will get in trouble or have their devices confiscated. It's therefore important to have regular conversations about online experiences in a way that feels safe and supportive. Children need to be reassured they will not get into trouble if they talk to an adult about something that has happened online.
In the lead-up to Safer Internet Day the Office of the eSafety Commissioner launched a range of new resources, such as the eSafety Kids Conversation Starters, to help parents and educators start conversations about online safety. Conversation starters include:
• Have you ever seen anything online that made you feel uncomfortable?
• What would you do if someone online was contacting you, but you didn't want them to?
• What would you do if someone was being mean to your friend online?
• How do you know when it's time to stop an online activity?
• What are your top 3 tips for staying safe online?
The eSafety Parents page provides more tips to help parents start conversations about online safety with their kids and address a range of 'digital parenting' challenges. The eSafety Education page offers tools and online resources to help educators start the chat in their school communities.
Start the chat with school theatre productions
Another way to start the chat about online safety is to book one of Brainstorm Productions' school theatre productions. Brainstorm offers a range of productions for schools that are designed to be a springboard for further discussions around issues such as cyber safety, cyber bullying, resilience, respect and responsibility.
On Safer Internet Day, Brainstorm actors performed school shows about online safety to more than 1200 students across NSW, QLD and Victoria.
In Sydney, Domenico and Danielle helped students at St Benedict's Primary School Edgeworth start conversations about respect, empathy and safety in online and offline environments. Their primary school production The Human Race is a cyber safety and anti bullying program for schools that helps build reasoning, problem solving and communication skills through educational theatre.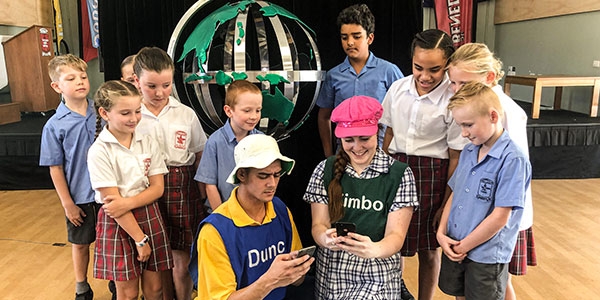 Sheree and Callum performed their primary school production Buddies at The Springfield Anglican College in Brisbane. Buddies uses educational theatre to open up discussions about cyber safety issues such as cyber bullying, privacy, unwanted contact, safe online friendships and age restrictions on social media. After the performances students shared some of the ways they're making the internet a safer place:
• "I treat everyone with respect – online and off"
• "Being a nice person online"
• "Keeping our accounts private"
• "Stick to safe sites that are made for kids our age"
• "Don't accept messages from strangers"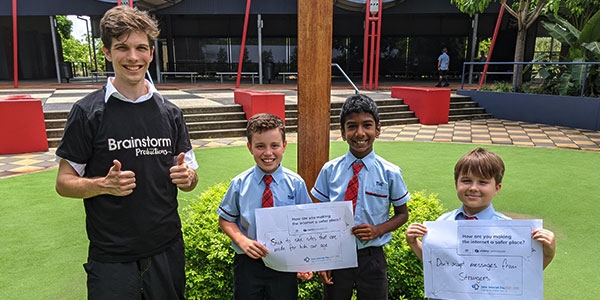 Alex and Miriam were in Melbourne performing their high school production Cyberia for students at Sirius College and Whittlesea Secondary College. Cyberia is a theatre in education program that challenges students to think critically about their decision-making on games, social media and other online platforms. Cyberia looks at how we protect our privacy and security and care for our mental health in the online world. 
Students at Whittlesea Secondary College gave us their tips for creating a safer online world:
• "Don't be mean to people"
• "Check up on your friends"
• "Be responsible"
• "Don't be rude"
• "Make sure the websites you use are safe"
• "Think before you post"
On Safer Internet Day two teams of actors were rehearsing one of Brainstorm's high school productions The Flipside. This educational theatre program raises important questions about personal responsibility, ethics and bystander behaviour in online spaces. 
These teams were also rehearsing one of Brainstorm's primary school productions The H Team. The H Team is a resilience and anti bullying program for schools that fosters healthy habits, cyber safety, digital literacy and positive connections. 
Join the conversation about online safety by visiting eSafety.gov.au – and make every day Safer Internet Day!