In recent years we've seen greater acceptance and communication around the topic of mental health. We've also seen a growing number of initiatives aimed at reducing stigma and increasing support for people who are struggling with mental health issues.
During the month of October, communities across NSW will come together and hold events to celebrate Mental Health Month, which coincides with World Mental Health Day on the 10th of October. This year the focus is on sharing the journey: promoting positive social connections to help people cope with mental health issues, build resilience, and improve their wellbeing.
Bullying, and in particular cyberbullying, can have a serious impact on the mental health of children and adolescents. Students involved in cyberbullying have poorer mental wellbeing [1], and higher levels of anxiety, depression, stress, loneliness, and substance abuse [2]. 
And it's not only the targets of bullying, but also the bullies themselves, who have adverse mental health outcomes. In fact, a recent Australian study found that 14- to 15-year-olds who were both the target and the perpetrator of bullying were at highest risk of self-harm and suicidality [3].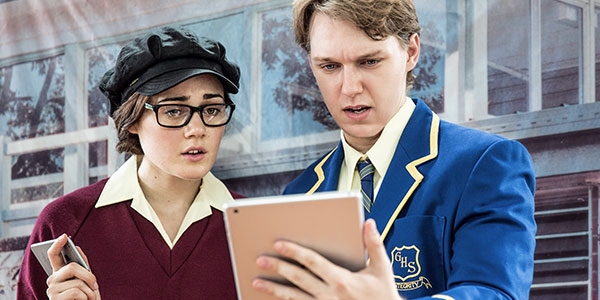 We can often feel overwhelmed by this reality, and it is becoming more and more difficult to control the experiences of young people online. However, in an analysis of more than 131 studies, it was found that kids who felt safe at school, and perceived their school as having a climate of respect, fairness and kindness, were less likely to be involved in cyberbullying [2]. Young people with higher levels of empathy were also less likely to harass their peers online. 
A sense of connectedness can also improve resilience against cyberbullying. For example, regular contact with family in the form of family dinners has been found to be protective for adolescents who experience cyberbullying [4].
Brainstorm Productions provides mental health education and cyber safety resources in schools
Brainstorm Productions aims to reduce the incidence of bullying and cyberbullying in schools. They also work towards building these resilience factors: helping staff and students to develop a safer and more respectful school environment, and showing students the value of positive social connections for maintaining mental health and wellbeing. 
High school shows like Cyberia and The Flipside encourage students to think critically about their values and behaviour online. They show the potentially damaging effects of cyberbullying, while also giving students strategies to break these patterns. 
Shows like The Protectors and Being Brave encourage empathy in younger children, and help to build resilience against cyberbullying in primary schools.
Sharing the journey through live theatre
If social connection, empathy and a positive school climate help to reduce bullying, then Brainstorm Productions is well placed to improve mental health for kids.
Storytelling is instrumental to forming interpersonal connections. We tell stories to connect with others. We feel connected when we hear others' stories. 
By providing mental health education in schools, and telling stories of bullying and cyberbullying through live theatre, Brainstorm has the unique opportunity to connect directly and immediately with students. 
The very act of watching live theatre, means students engage in an act of connectedness; connectedness to each other, the characters and the actors. By watching the nuanced interactions, and empathising with the characters, primary and high school students see the benefits of supporting one another. 
Every Brainstorm show involves a post-show discussion, which provides another opportunity for students to explore bullying, cyberbullying and mental health issues. Discussions and activities may foster a feeling of connectedness in the classroom. These discussions may give some children the courage and strategies they need to seek help from peers, family or teachers. 
Brainstorm shows are also supported by emotional wellbeing resources and mental health activities, developed by psychologists and educators. 
Mental Health Month provides an opportunity to explore the issue of mental wellbeing in schools. Through the experience of a Brainstorm show, students and teachers can connect, reflect, and share the journey towards a more positive school environment and better emotional wellbeing.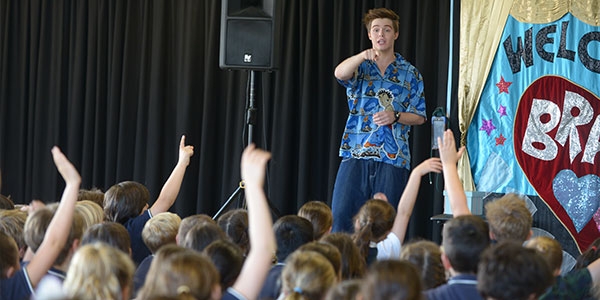 References
[1] Spears, B.A., Taddeo, C.M., Daly, A.D., Stretton, A.,  & Karklins, T.L. (2015). Cyberbullying, help-seeking and mental health in young Australians: Implications for public health. International Journal of Public Health, 60, 219-229.
[2] Kowalski, R.M., Schroeder, A.N., Giumetti, G.W., & Lattanner, M.R. (2014). Bullying in the digital age: A critical review and meta-analysis of cyberbullying research among youth. Psychological Bulletin, 140, 1073–1137. 
[3] Ford, R., King, T., Priest, N., & Kavanagh, A. (2017). Bullying and mental health and suicidal behaviour among 14- to 15-year-olds in a representative sample of Australian children. Australian & New Zealand Journal of Psychiatry, 5, 897-908.
[4] Elgar, F.J., Napoletano, A., Saul, G., Dirks, M.A., Craig, W., Poteat, P., Holt, M., & Koenig, B.W. (2014). Cyberbullying victimization and mental health in adolescents and the moderating role of family dinners. JAMA Pediatrics,168, 1015-1022.