Communication plays such an important role in human interaction. A heartfelt note is always a great way to let someone know how you feel, as it carries with it sincere words, personal thoughts and our deepest gratitude. In the days of Snapchat, text messages and twitter, a thank you note might seem old-fashioned – but R U OK? is bringing it back with their 2015 campaign 'Thanks for Asking'.
Thanks for Asking is all about celebrating the power of a conversation. By encouraging people to give thanks for someone who's helped them weather one of life's storms when they needed a bit of support, it will help prove that conversations do make a difference. Whether you're the writer or the recipient, it's an opportunity to reflect on how we can positively influence the lives we touch.
As the R U OK? School Partner, Brainstorm Productions will be encouraging students to take part in the Thanks for Asking campaign by writing notes at www.ruok.org.au and starting meaningful conversations with each other.
So now is the time to thank somebody! Take the time today to write a thoughtful thank you note and let's embrace the power of conversation!
How to Get Started
To find out how you can get involved, visit the R U OK? website by clicking here.
To witness the power of this campaign, click here to watch the 'Thanks for Asking' video, featuring our very own actor Vito.
To view real-life letters, click here to read on the R U OK? website, including one written by our very own team member James.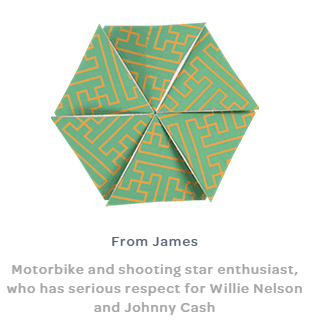 Tips for Writing a Great Thank You Note
To get you started, here are three great tips for writing a thank you note from the R U OK? website:
Acknowledge they were there for you when you needed help.
Tell them how a bit of support made a positive difference.
Mention something specific they said or did that connected with you.
In the spirit of the campaign, one of our own team members has also participated by writing their own Thanks for Asking letter, which they commented was a "lovely and gratifying experience":
Dear Belinda,
How're things? I still find it pretty incredible that you've moved half a world away, I remember all those fun times we had playing on the grass of my parents place as kids, seems like so long ago. I was round at my mum's place the other night actually, it was her 60th birthday, and seeing your old house all lit up, the silhouettes of your mum and dad moving around inside, it got me thinking about you and everything you did for me.
I'm going to be honest, my parents' divorce was a tough time for me, and when we last saw each other I was in a bad head space, I was feeling alone, isolated by the stress of that huge time in my life – which is funny because looking from the other side of that cloudy glass bowl I can see that I had built it up to the point where I was breaking from the stress and anxiety.
And then we ran into each other on the street and you asked if I was alright and it was that moment of connection more than anything else that snapped me back from my isolation. You asked me how things were going at work and when I told you about how I was struggling you sat down with me and we talked. You didn't lecture me about how maybe I was putting too much emphasis on things, you just listened and asked about my parents and how that was going, kept me talking and reassured me that it was okay for me to feel the way I was feeling.
You broke through to me in a way that my mum and dad weren't able to, didn't try to, I was upset with them. All that emotional weight and baggage made me feel like I was sinking; and then you were there with me, listening to me just get it all out, all that frustration, it didn't really register with me at the time just how important that moment was for me.
Imagine my surprise when I opened my email and there was a note from you, even as busy as you sound with the big move, you still took the time to follow up with me, asking how things are going with my parents – its better by the way, if not perfect – and showing me that you genuinely cared. FYI I took your advice and started seeing a counsellor and it has proved to be a really helpful outlet for me; it has taken some time, but it's been worthwhile.
The whole purpose of this letter is quite simple: I just wanted to write to you and say thank you, thank you for being there for me at a time when I was in a really bad spot, thanks for talking to me and thank you for showing me that there is always someone out there who cares and is willing to listen.
So, thank you Belinda.
Yours truly;
Sarah
About R U OK?
R U OK? is a not-for-profit organisation dedicated to encouraging and empowering all people to ask "are you ok?" of anyone struggling with life. Its vision is a world where everyone is connected and is protected from suicide. This year, R U OK?Day is Thursday 10th September 2015.
Find out more: www.ruok.org.au