PAW will be held from Sunday 12th to Saturday 18th May and the core message for 2019 is: Don't be in the Dark on Privacy. During this time, Brainstorm Productions will be shining a light on online privacy and cyber safety for students by using theatre in education (TIE) to demonstrate privacy issues, the importance of keeping personal information safe and the consequences of not protecting your identity online.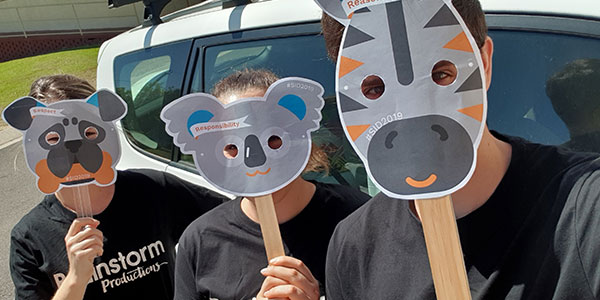 Over the course of the week, Brainstorm Productions will be touring Australia and performing their range of primary school and high school cyber safety programs to over 8,000 school students. Productions include:
Primary School Productions:
Saving Lil & Archie: This is the story of two students who must learn how to stay cyber safe, limit screen time and develop healthy lifestyle habits, so that they can help Lil & Zig return to planet Arkon.
Sticks & Stones K-6: Seen by more than 1.7 million students, this primary school program is designed to provide students with strategies to deal with aggressive behaviour, both offline and online. It teaches them how to build respectful relationships in real-life, as well as on the internet and online games.
The Protectors: This production provides students with clear instructions on how to stay safe online. Students learn about the consequences of cyber bullying, assertiveness skills and how to curb aggressive behaviour.
The Human Race: An anti-bullying and resilience program that reinforces positive relationships and provides resources to help reduce bullying at school and online. The program encourages tolerance, kindness, respect and empathy.
High School Productions:
Verbal Combat: This production explores two of the most pressing issues facing students today, cyber bullying and internet safety, by helping students examine their own online behaviour and the devastating consequences of online bullying.
The Hurting Game: Designed to challenge and engage students to take ownership of their behaviour, this program explores cyber bullying, digital citizenship, cyber safety, online harassment, peer pressure and developing positive relationships online and when using social media.
Sticks & Stones yrs 7-10: A fearless theatre production that explores the causes and consequences of violence and aggression. This high school production encourages students to re-think their views about cyber bullying, image based abuse and staying safe online.
The Flipside: This production is designed to challenge and inspire students to create an ethical online roadmap, develop positive online relationships, tackle cyber bullying and protect their privacy online.
If your school does not have a Brainstorm Productions show booked for PAW 2019, we've provided some important tips below on how students can protect themselves online.
Protect Yourself on Social Media: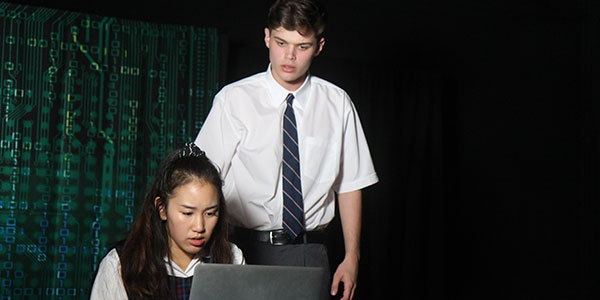 Familiarise yourself with the site's privacy and security settings – make sure you're only sharing your information with the people you want to share it with.
Don't accept friend requests or invitations from people you don't know – you could be making yourself and your friends more vulnerable to scammers.
Protect your social media accounts with strong passwords. Change your passwords regularly and use different passwords for each account.
Don't use social networking sites that do not offer any privacy settings or that allow users to contact each other anonymously.
Think before you post. Once information is online is it very difficult to remove. If unsure, ask yourself – would I be OK if this image or information was shared more broadly or seen by my teachers, parents, classmates or future employers? If not, perhaps think again.
Remember that people are not always who they say they are online.
Use caution when clicking on advertisements like online shopping on social media platforms. Just because a post appears in your feed and has been 'suggested for you' doesn't mean the retailer is legitimate.
Be particularly careful with personal information that could compromise the security of you and others, for example a date of birth, an address, your daily routine, your school or your holiday plans. This information can be used by criminals to steal your identity or plan criminal activity – like robbing your home when you are away.
Be wary of dating and romance scams, which are more prevalent on social media platforms. Dating scams are where a criminal pretends to have a romantic interest in a victim in order to steal their money or personal information.
Read and understand the social network site's terms and conditions and privacy policy.
Ref: www.staysmartonline.gov.au/protect-yourself/doing-things-safely/socialising-online
Securing your Mobile Data: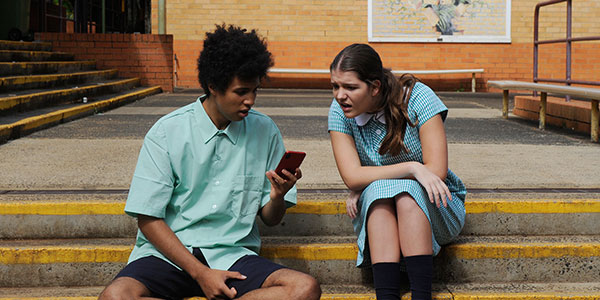 Set a password, Personal Identification Number (PIN), passcode, gesture or fingerprint that must be entered to unlock the device. Don't forget to put PINs on your SIM card, voicemail and ensure the device is set to automatically lock.
Install reputable security software that includes antivirus and antitheft/loss protection – your device's retailer or service provider can provide recommendations. Only install applications from the official device application store and do not "jailbreak" your device.
Use your device's automatic update feature to install new application and operating system updates as soon as they are available.
Set the device to require a password before applications are installed. This will prevent unauthorised modifications to the device.
Leave Bluetooth turned off or in undiscoverable mode (hidden) when you are not using it.
Ensure your device does not automatically connect to new networks without your confirmation.
Record the International Mobile Equipment Identifier (IMEI) of your handset. Your IMEI is a 15 or 17 digit number often printed on a label under the battery or found in the Settings under General information about your device. If your device is lost or stolen, report this number to your provider and they can stop the handset from being used.
Enable the remote locking and/or wiping functions, if your device supports them.
Back up your data regularly, either with a backup application or by manually syncing the device with a computer.
Do not save passwords or PINs as contacts on your phone or tablet.
Enable device encryption to protect personal data stored on the device where possible.
Check the privacy permissions carefully when installing new apps on your device and only install apps from reputable vendors. Where you can, make apps or profiles private and password protected. Learn more about protecting yourself from mobile malware.
Ensure you thoroughly remove personal data from the device before selling or recycling it.
Re: https://www.staysmartonline.gov.au/protect-yourself/protect-your-stuff
While PAW spotlights the importance of cyber safety and online privacy for one week in May, Brainstorm Productions' range of certified cyber safety programs tour for the full school year. To view the 2019 touring schedule please click here or freecall 1800 676 224.
For more online privacy tips and advice, watch the following video 'Get Smarter With Your Data':